Ages:
All the family
Under 5s
School age
Adults
Venue:
Outdoor
Cost:
Free
Description
Farnham Park is a large park close to Farnham Town Centre. It has a large, wooden adventure playground, a toddler's play area, cafe, toilets, golf course and football pitches. There is lots of space for exploring amoungst streams and pathways as well as perfect picnic spaces. There is access on foot from Park Row in the town centre or from the car park on Folly Hill.
Check out this quick review from @family_footsteps
Farnham Park in Farnham, Surrey. A medieval deer park within walking distance of Farnham town centre and views of Farnham Castle. I've had this on my bucket list for a while and it did not disappoint. What a wonderful open space! So much to explore and only 40 minutes from Windsor.

2 play parks - 1 adventure play park with wooden fort and obstacle course. The other a bit further away, fenced and for slightly younger ages.

🚘 On-site parking
👣 Vast open space for a walk
👶🏼 Buggy friendly paths
🦮 Dog friendly
🚲 Bike friendly paths
🏰 Adventure playground
👨‍👧 Toddler/younger children's play park
⚽️ Large football area with goals
☕️ Cafe & toilet facilities (currently closed)
⛳️ 9 hole golf course
🏏 Cricket club

Hidden dells, hills, valleys, ponds & streams and provides panoramic views of Farnham and countryside.
Another place to visit in the summer with a picnic.
You can follow Lauren at @family_footsteps for more adventures in Berkshire and surrounds.
---
To visit Farnham Park for a family walk you can park in the car park on Folly Hill near the Golf Course – the café here is serving snacks, drinks and lunches as take away. You can see the ruins of the 12th century Farnham Castle and from here you can stroll along the paths at the top of the park, which lead you over streams and through wooded areas. There are plenty of picnic spots and opportunities for den building. Through the middle of the park, there is a popular 1km tree-lined avenue.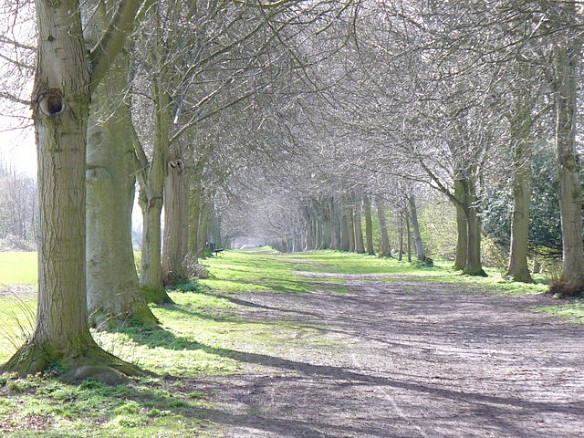 Why not try a walk in Camberley, Farnborough or Frimley with our guide to walks in this area?
Open hours
| | |
| --- | --- |
| Monday | Open |
| Tuesday | Open |
| Wednesday | Open |
| Thursday | Open |
| Friday | Open |
| Saturday | Open |
| Sunday | Open |