Description
Rugger Rascals is a Rugby themed class for boys and girls from 18 months up to their 6th birthday. Classes are based on the fundamental movement skills and help build children core skills up using fun games and rugby based drills. Give your chidren great sporting experiences right from the start! These classes teach students core skills like how to hold, throw, and kick the ball; spatial awareness; agility; and coordination. As children grow, later classes focus on further developing these skills, along with concepts like teamwork.
Rugger Rascals isn't just about the kids : they want to help you further develop the bond you have with your child through a mutual love of sport and exercise. That's why Rugger Rascals classes involve lots of parent participation.
---
There are 4 classes running each Sunday.
18 months to 3 years
18m to 2 yrs - 8.30-9.00
2-3 yrs - 9.10-9.40
At this early learning stage, we help develop children's core skills, such as spatial awareness, agility, coordination, and equipment handling. Sessions incorporate fun, themed games to encourage teamwork and develop social skills, including listening to and following instructions. Parents and kids alike have a great time!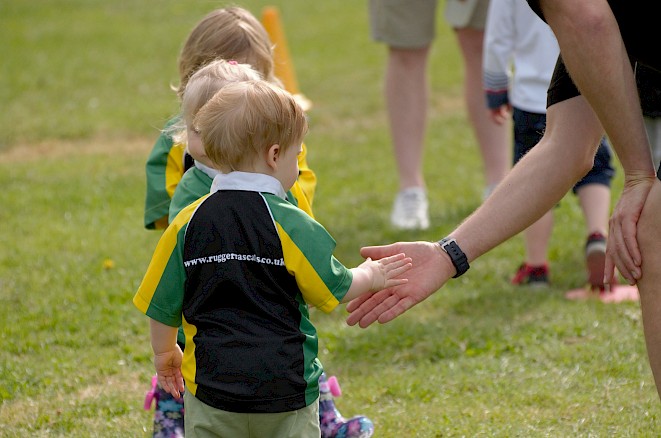 3 years to 5 years
3-4 yrs - 9.50-10.35
4-5 yrs - 10.45-11.30
Throughout this stage, we encourage children to work more independently from parents. Children apply previously learned skills competitively through game-specific simulations. Sessions maintain a strong focus on teamwork.
---
Lesson Prices
12 weeks

14 weeks

Join fee

30 min class

£96

£104

£30

45 min class

£129

£140

£30
For more information about Rugger Rascals and to book a session, visit the website here.